The ALBERNI VALLEY CHAMBER OF COMMERCE is the "voice of business" for the entire region. Registered under the Federal Board of Trade Act, the Chamber is a membership-driven organization focused on continually improving the business climate in the community.
Under the FBOT ACT we are deemed a Not for Profit organization that is comprised of Businesses, Professionals, Senior Citizens and other Community groups. Under the Direction of an Elected Board of Directors and in consultation with Staff we work hard to advocate for an ever improving community. The Alberni Valley Chamber of Commerce is funded through a myriad of different revenue streams driven largely through Membership dues. We are not dependent on any Government funding though we confirm that we maintain various contracts with the City of Port Alberni designed as a Fee for Service. We are connected to other levels of Government including the Alberni Clayoquot Regional District who typically provide us with a small grant that we put toward our Visitor Operations. We apply annually for funding through the Federal Government on their Youth Employment initiatives and we've been known to apply for various other Federal and Provincial Grants as we become aware of them.
We are proud to affiliate with both the BC Chamber of Commerce and Canadian Chamber of Commerce and by default our members are members of those organizations. All levels of Government be it Municipal, Regional, Provincial or Federal do consult with Chambers of Commerce on matters of importance. And where they don't we then initiate the conversation to ensure that our Voice, the Voice of Business is heard.
At this writing the Alberni Valley Chamber of Commerce hosts a membership portfolio of approximately 320 Businesses. The BC Chamber of Commerce is supported by more than 120 Chambers from across the Province representing more than 36000 businesses. By comparison the Canadian Chamber of Commerce hosts more than 450 Chambers with a net total of more than 200,000 Businesses.
it's tough not to listen to such large choirs.
Our VISION
Our vision is to make the Alberni Valley a leading business-friendly community in BC.
OUR MISSION
We support and promote our business community, through advocacy, education and communication.
Accomplished through:
 Supporting and promoting members and the business community at large.
 Being the focal point for tourism and visitor services.
Advancing the general welfare of the community.
Communication to the Member Community via Newsletters, e-blasts, social media, etc.
Dinner / Networking Meetings held periodically throughout the Port Alberni area designed to foster Networking opportunities while featuring guest speakers on pertinent informational topics.
Annual Business Excellence Awards held each April where approximately 18 - 20 Awards are given out to deserving individuals and business organizations in the community.
Coordination of the Ambassador Program in the Alberni Valley; a program where volunteer retirees give back to the community by way of their presence at Cathedral Grove, Harbour Quay and other local venues. These locations see an abundance of travellers, many from other Continents, who are keen to learn more about the Alberni Valley.
Organizating and managing of specific events such as: The Paper Chase a 15k run as part of the Vancouver Island Race Series each March. 
We involve ourselves in many areas that affect or could affect the well-being of the employers in the Alberni Valley.
The Chamber holds a contract with the City of Port Alberni to operate the commercial activities at the McLean Mill National Historic Site. Our agreement is specific to the Non-Historic areas including the Grand Hall, Gift Shop and Office Buildings. Currently the programs offered (as of mid 2022) include: Weddings, Major Events, Small-scale events, Camping, Tours on-site and off-site, Bike S.E.A.T program featuring e-bikes for Seniors, Gift Shop, Food Services and more.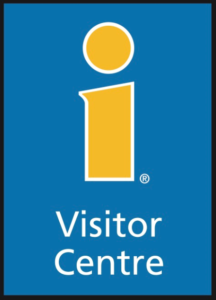 The Chamber also holds a fee-for-service contract with the City of Port Alberni to house and operate the Visitor Centre. This is a fully sanctioned Tourism BC information centre, offering firstline, professional travel counselling and information for potential investors.
Our Visitor Center mandate is to promote events, attractions and services available within the Alberni Valley and deliver first class travel counselling to visitors and locals, alike. Our Visitor Centre brochure racking services prove most valuable to businesses of all kinds in the region.
Please take a peek at our Visitor Centre Website that lists most local attractions, virtually all accommodations, food services and more. http://www.PortAlberniVisitorCentre.ca