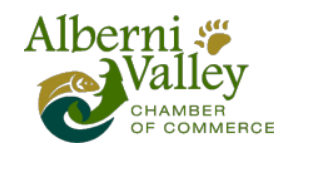 Event Date
Wednesday, May 26, 2021 - 11:30 AM
ALBERNI VALLEY CHAMBER OF COMMERCE
2021 ANNUAL GENERAL MEETING AND ELECTION OF OFFICERS
ONLINE VIA ZOOM
Time: May 26, 2021 11:30 AM Vancouver
Join Zoom Meeting
William Collette is inviting you to a scheduled Zoom meeting.
Topic: AVCOC AGM - 2021
Time: May 26, 2021 11:30 AM Vancouver
Join Zoom Meeting
You are invited to a Zoom webinar.
When: May 26, 2021 11:30 AM Vancouver
Topic: AVCOC - Annual General Meeting
Register in advance for this webinar:
https://us06web.zoom.us/webinar/register/WN_1RbckxZtQ2yUma6jgNV72Q
After registering, you will receive a confirmation email containing information about joining the webinar.
AGENDA
11:30am – Login – Visual Networking
11:40am – Terry Deakin – 2nd Vice President – Call the Meeting to order
11:45am – General Introductions:
            Adoption of Agenda: Motion to Accept: Agenda
                Adoption of Previous Minutes – May 20/20: Motion to Approve
            11:50am  President's Report: Sarah Jones  N/A – Sick-leave – Terry Deakin to provide general report on behalf of the President.
Motion to accept the 2nd VP's (President's) Report:
11:55am  CEO's  Report: Bill Collette. 
Motion to accept the CEO's Report:
12:10pm Auditor's Report: (Terry Deakin) to introduce representatives of R. Anderson & Associates )
Motion to accept the Audit Engagement Report:
Motion to appoint Anderson Associates as the Chamber's 2021 Auditor
12:25pm – SPECIAL GUEST – Her Worship – Mayor Sharie Minions
Terry Deakin to welcome Mayor Minions
12:35 pm Recognize outgoing and appointed directors:
Thanks to outgoing President – Sarah Jones, Vice President Carol-Anne Phillips, 2nd Vice President Terry Deakin, Secretary Peter Wienold, & Treasurer Dave Heinrichs
Thanks to outgoing Directors – Gail Horvath, Michael Moore, Teresa Bird, Daniel Savard, Suzanne Dube, Crystal Knudsen, Lori Kerr & Krista McKitrick
12:40 pm Election of Officers and Executive
Nominating Committee report – Michael Moore
Election: Peter Wienold to run for the Executive Positions.


Deb Haggard to run Election of Directors

Call for nominations from the floor in each category.


Executive:

President – Terry Deakin (INEO Employment)
VP – Suzanne Dube (Edward Jones)
2nd VP – Dan Savard (Swept Away Inn)
Treasurer – Michael Moore (IT Specialist)
Secretary – Krista McKitrick (Belle's Hair Care)
1 Year Director nominees (8 positions)
The Nomination Committee has identified and supported the following people for open positions on the Board. They include:
Mary-Clare Massicotte (MCM Facilitation and Training)
Peter Wienold (The Graphics Factory)
Teresa Bird (Publisher – AV News)
Murray Lawlor (Retired – former owner Coombs Country Candy)
Crystal Knudsen (Branch Manager – Scotiabank)
Lori Kerr (Coastal Community Credit Union)
Dave Heinrichs (Alberni District Co-op)
Carol-Anne Phillips (Steampunk Café)
Where election is necessary allow each candidate up to 2 minutes for self-introduction.
Conduct elections by raised hand (Zoom option) where required.
Announce results.
Swearing in ceremony conducted by Councilor Deb Haggard.


Motion to destroy all ballots.

Introduce in-coming Board of Directors
~ 1:00pm MOTION TO ADJOURN
Dates to remember:
Thursday, June 24th @ 7:00am – Board Meeting – AVCOC or via ZOOM at 7:30am